Hanse 470e (BEGAGNAD) 2008
Välutrustad och välskött segelbåt Hanse 470 E – En klassisk Hanse med epoxiskrov.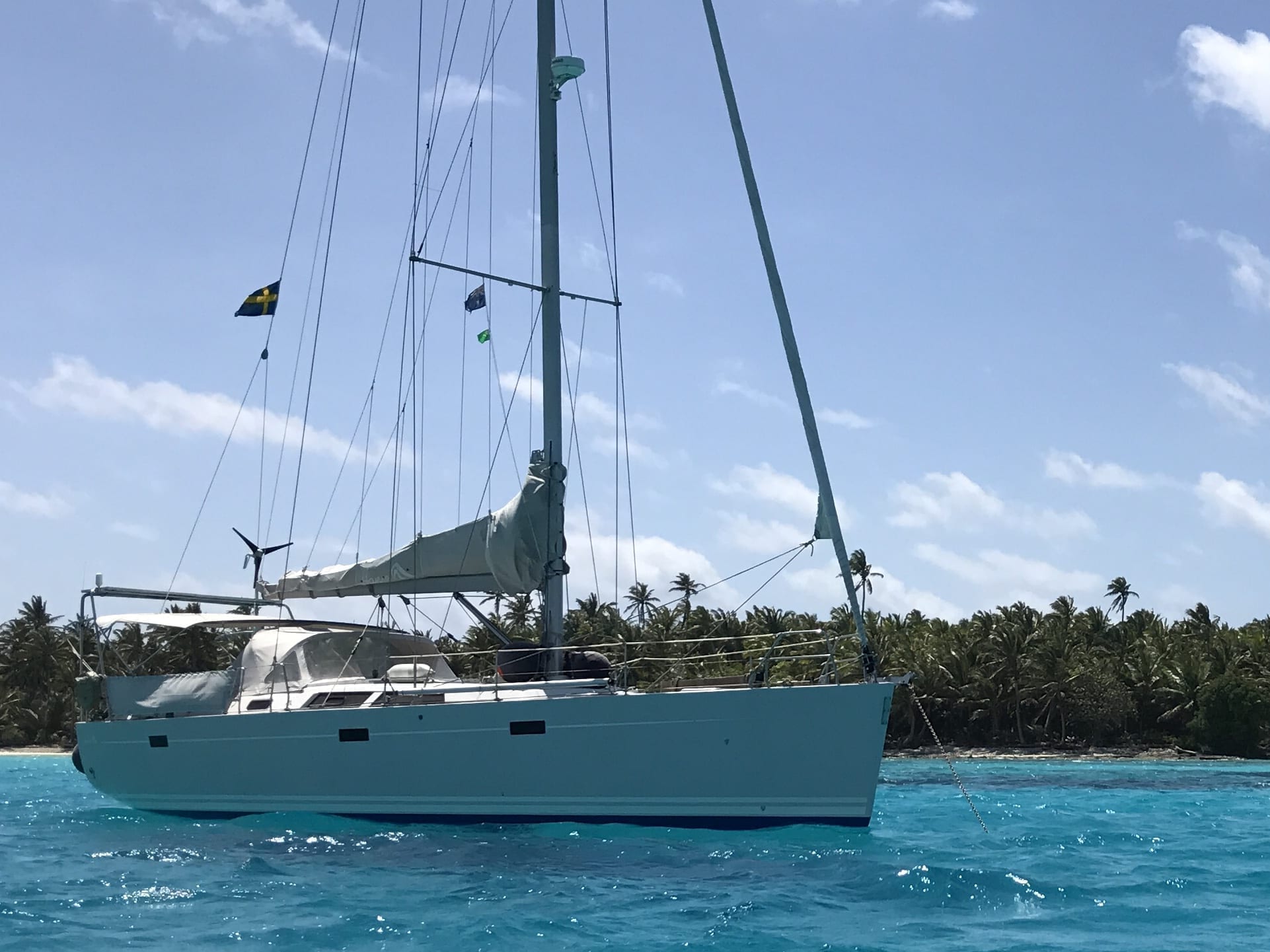 SEK moms är betald ( VAT payed).
Båtnummer

...

#190

Båtfabrikat

...

Hanse

Båtmodell

...

470E

Tillverningsår

...

2008

Hemmahamn

...

Skeppsholmen Stockholm

Kabin inkl. salong

...

4
Försegel

...

Självslående fock

Storsegel

...

67,5 m2

Självslende fock

...

48,3 m2

Total segelyta

...

124 m2

CE Certifikat

...

A (ocean)

Design

...

Judel/vrolijk & co
Längd

...

14,19 m

Bredd

...

4,46 m

Djup

...

2,30

Vikt

...

12,2ton

Motorfabrikat

...

Yanmar 4JH4

Motoreffekt

...

75hk
En välvårdad snabbseglare  –  Segelbåt Hanse 470e
En segelbåt för dig som uppskattar rejält överriggad segelbåt och ett snabbseglande skrov från Hanse och design av Judel/Vroljic. Hanse 470e är en förnyad utgåva av Hanse 461, en modell som fans under tio år. Skrovet är oförändrat, men överbyggnaden är mera elegant och sittbrunnen mer funktionell. Epoxyskrov i epoxy med Corecell som distansmaterial och däck i glasfiberarmerad plast, handupplagt sandwichlaminat (distansmaterial okänt). Stringers. Skott laminerade mot skrov och däck. Köl fäst med rejäl dimension och vfz kölplatta med rostfria bultar. Semibalanserat roder med hjärtstock i aluminium.
Till babord om nedgångstrappan finns toalett med dusch. Mellan nedgångstrappan och toaletten finns ingång till akterkabinen som består av dubbelkoj och garderob. Till styrbord om nedgångstrappan finns L-format framåtvänt pentry med spis med ugn och dubbla diskhoar. Mellan pentry och nedgångstrappa finns ingång till akterhytt med en dubbelkoj och garderob. Salong med L-formad soffa till babord och två fåtöljer, alternativt längsgående soffa till styrbord. För om salongen finns förpik med dubbelkoj, toalett med dusch och garderober.
Denna Hanse 470 E  S/Y Maria af Stockholm har seglat på världshaven och är mycket välutrustad och i fint skick.
Specification Hanse 470E  #190 2008
Length: 14.19 m
Beam: 4.46 m
Depht: 2,60 m
Deplacement: 12200 kg
Hullmaterial: GRP
Deckmaterial: FRP Sandwich + teak
Salong: 1
Cabins: 3
Beds: 6+1
Toalets: 2
Schower: 1
Hemmahamn: Skeppsholmen, Stockholm
Enginetype: Diesel
Enginemodell: Yanmar 4JH4-TE
Engine: 1x 75 hp
Enginehours: cirka 2000 h
Saildrive: Ja yanmar SD 50-4T  med 3 bladig folding propeller
Bowthruster: Ja  Max Power VIP 150 Electric 12V
Watertank: 2 x200 L
Fueltank: 280 L
Standardkeel:  2,60 m
Interior: Furniture Mahogny, Flooring teak, Upholstry Monte Carlo Blue
Accommodation 
Forward Cabin: Hanses version "A1" with island berth, hanging lockers and lockers. Toilet and shower unit.
Main Saloon: Hanses version "B1" with a large saloon table, lockers, two retractable and ergonomic chairs and a
L shaped sofa. Toilet and shower unit.
Navigation area: Seat at navigation station. Storage in the chart table and locker above chart table for books and instruments. Chart light.
Aft Cabins: Hanses version "C1" with two double aft cabins with lockers.
Galley Solid surface with integrated double sink. Two-burner propane/butane stove with owen. Bottles stored in a self-draining compartment in the bow the anchor locker.
Two toilets. Each with a black water stainless steel holding tank capacity of 30 L. Sea and deck discharge for each toilet. Jabsco Manual sea water flush.
Refrigeration 12 V Isotherm refrigeration box with top lid and side opened door. Box volume approximately 130 L. Freezer compartment has a foldable lid open from the top.
Anchoring Bow: 25 kg Delta anchor attached to 60 m stainless steel chain (10 mm). Lewmar electric Horizontal windlass with hand held control.
Anchoring Rear: 20 kg stainless steel anchor attached to 50 m leaded rope. Lewmar electric windlass with fixed control in the cockpit.
Safety Gear: 
1 Manual bilge pump, 2 Electric bilge pumps, 1 Plastimo Life Raft Transocean 4P ISO 9650-1A, 1 Jon Buoy Recovery Module (MOB), Emergency flares for ocean sailing ,EPIRB McMurdo Smartfind G5 Plus automatic, Battery Expiry: JAN 2021, Navtex McMurdo NAV 6, VHF: one Simrad RS 82, one ICOM IC-M411 and one hand held waterproof Uniden Atlantis 250 and 3 fire extinguisher.
Electrics: 
Victron Phoenix Inverter 12V W 350 W, Air Breeze Wind Generator, 2×145 w Perlight Solar Panel, Max Solar Charge Controller, Shore electricity connection, Sterling battery charger Pro charge D 50 A. Input voltage: AC 80-130V and 170-280V, Input frequency 40-400Hz, Interior LED lighting, 4x100Ah AGM Deep Cycle batteries (2017), 4x95Ah GEL batteries (2011) + 1×100 Ah AGM start battery (2014), 3 Flojet waterpumps (1 drainpump in each shower and 1 pump for shower, kitchen and toilet taps), 1 Jabsco bilgepump and 1 Johnson automatic submersible bilgepump, 110/230V/12V outlets
Electronics:
 Simrad GB40 NavComputer with 10" displays in cockpit and main saloon, Northstar 2kW Radar, Simrad AP24 Autopilot, Echo sounder. Airmar TRIDUCER Multisensor with valve, Simrad IS20 Wind Instruments x 2 in cockpit, CSB200 Class B AIS Transponder, Navtex McMurdo NAV 6, VHF: one Simrad RS 82, one ICOM IC-M411 and one hand held waterproof Uniden Atlantis 250, Plastimo Contest 130 steering compass, External Iridium Antenna., Ebersprächer heater (diesel), Sony Radio with Boose loudspeakers, Glomex TV antenna with amplifier, LTC 15,4" TFT LCD TV
Sail Inventory: 
Main sail: Leesails , fully rod-battened of 9,5 oz USwt dacron, approx. 67,50 m2 (November 2017).
Self tacking jib, furling: Northsail D-lam approx. 48,30 m2 (2008)
Genoa, furling: Doyle Durasail Dacron approx. 103% and approx. 55 m2 (April 2018)
Trisail: Hamel sails, never used (new 2011)
Storm jib: Hamel Sails, never used (new 2011)
Gennaker: Hamel Sails approx. 170 m2 (2011).
Mast / Rigging:
 Sparcraft 9/10-rig with 3 spreaders (2008), Furling system for jib/genoa (2008), Single line reefing system, Boom with 3 reefing lines, Rod kicker, Backstay adjuster, Harken ball slide system for main sail at battens and top headboard. Intermediate battens have regular "slide cars", Lazy jacks, Sail bag Nov, 2017, Rigging inspected in Cape Town Nov 2017. Two cap shrouds and four diagonal shrouds replaced.
Deck Gear:
Max Power Bow thruster, VIP 150 Electric 12V, Bow fitting with anchor roller, Deck wash pump/hose in anchor locker, Self draining anchor locker with lockable hatch, Electric Lewmar windlass under deck, Self-draining cockpit, 5 hatches, 4 flush hatches on coach roof, Retractable cockpit table with stainless steel chart plotter bracket, 6 retractable mooring cleets, Hinged swimming platform, Stainless steel swim ladder, Engine control at starboard helm station, Hot and cold shower aft, Genoa tracks with pinstop cars, 14 deck jammers, Stainless steel pull- and pushpits with navigation lights, Anchor light and steaming light, Stainless steel stanchions with rail gates on both sides, 2 Lewmar ST54 electrical winches, 2 Lewmar ST46 manual winches.
"Lämnade uppgifter är lämnade av säljaren/båtägaren och förväntas vara korrekta men kan ej garanteras. Avvikelser kan förekomma och inget vi tar ansvar för som förmedlare"