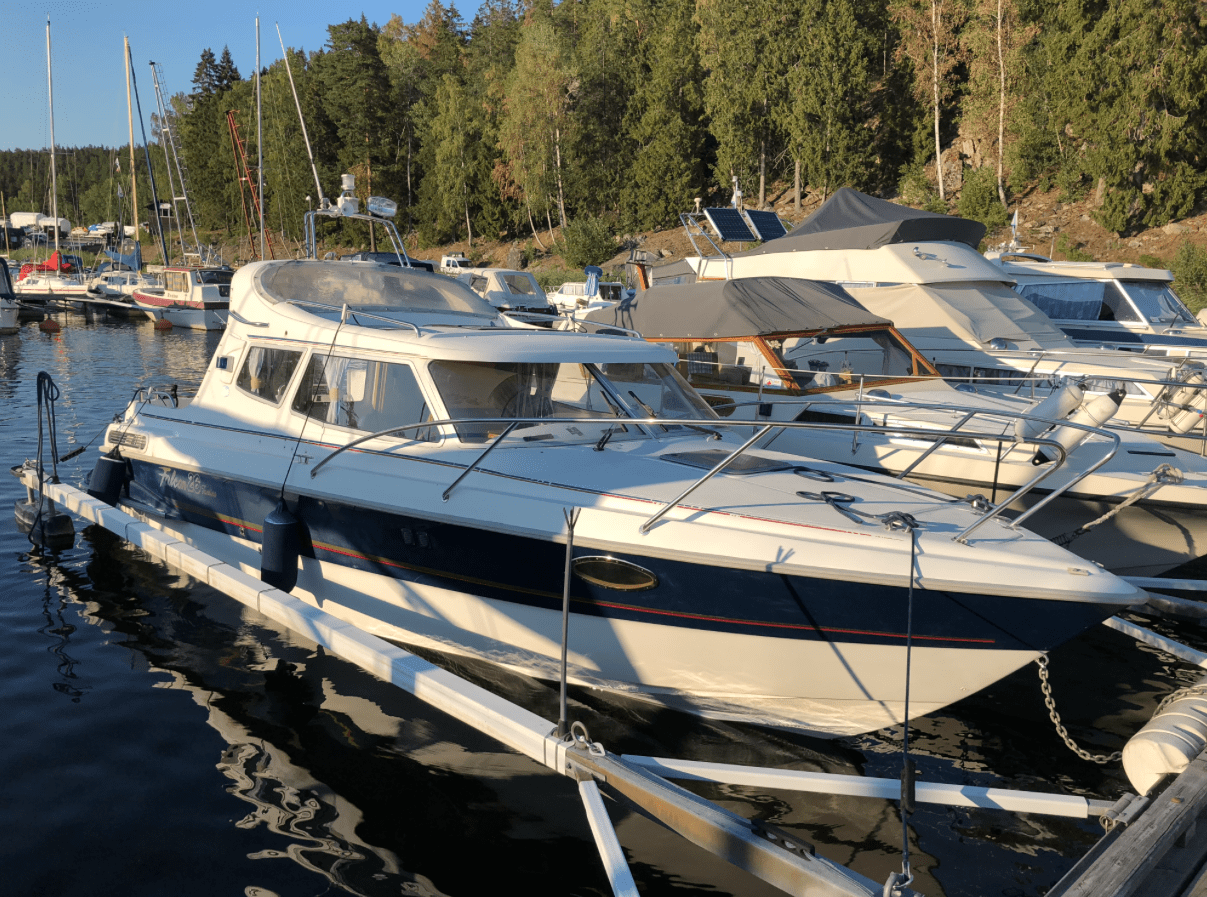 Well-groomed speedboat Bella Falcon 26 Fantino 2002.
This Bella is well-groomed and only family choir in the Stockholm archipelago.
Bellan has a nice hull with good sea characteristics and can run in all weathers. Perfect for the family for holidays, weekends and day trips. The boat is also a good and fast archipelago boat for those who live in the archipelago. When the sun shines, open the roof door and let both air and light into the cabin.
Kojplatser: 2 + 2
Bedable in the foretip and with bedable dinette and a separate knitbar in the stern.
Facts:
Length: 8.17 m
Width: 2.6 m
Weight: 2500 kg
Draught 0.85m
Engine: Mercruiser 5.0 MPI, 260 hp Petrol
Drive: Bravo 1 with 5-point stainless steel propeller
Fuel tank 250 l
Water tank 70 l
Manufacturer: Bella-Veneet Oy, Finland
Fiberglass reinforced polyester
March speed is at 26-27 knots
Top speed of about 36/40 knots.
With the second 3-leaf propeller that comes along, the top speed should be around 40 knots.
The boat is well-groomed and well maintained. In recent years, service and upgrades have been carried out by, among other things: service of chapels, drive and engine service, dressing of cushions and new driver's chair. New shield with stainless steel steering app, new checkhorn. Installation trimplan automatic. Accommodation
See the equipment list below:
Equipment list:
* Anchor games
* Start block
* Plotter Garmin with map card for mid-Sweden, Mälaren and Göta Kanal
* Sonar
* Stereo
* Trim plan with automatic – Mente 2018
* Headlights
* 2 lithium batteries á 90 Ah 2018
* Solar cell, Sunbeam 100 w 2018
* Battery monitor – Victron BMV-700 2018
* Photovoltaic Regulator – Victron SmartSolar MPPT 75/15
* Battery Guard – PowerTector PT40 2018
* Double sink with warm and cold water
* Refrigerator
* Wallas heater with thermostat
* Chapel/sprayhood acts
* Water heaters
* Walking heat/defrosts
* Pads aft tyre
* Sinks in bathrooms with seawater
* Shower on hot jetty with hot water
* New Toilet – AirHead 2017
* Teak on bathing bridge and stern tyres
* Fire extinguishers
* Ladder in the lead
* Extra propeller
Epoxy treatment of the bottom
The boat is sold spring-equipped and ready for launching.
The trailer Tiki BB3500 2017 can be purchased for interest.
"The information provided by the seller/boat owner is provided and is expected to be accurate but cannot be guaranteed. Deviations can occur and nothing we take responsibility for as intermediaries"