Hanse wants to be first in the boating business with an app that makes it possible to communicate with your Hanse via an app in your smartphone. The aim is that you as a boat owner should be informed about boat info such as battery charging, need for service, boat position, be able to activate heaters, refrigerators, burglar alarms, ankarlarm, etc.,
Everything in an app
Monitoring your boat 24/7
Positioning live with Logbook
The boat's planned service needs
Alarm
Activate equipment for arrival such as fridge and heat
All your connected sensors are synced with the app, if there is something you need to be aware of, the app will notify you. Set your minimum deep alarm and you will get a message if the boat is on shallow water, or if your batteries run out. The possibilities are endless.
Compatible with iOS on Apple, Android and desktop.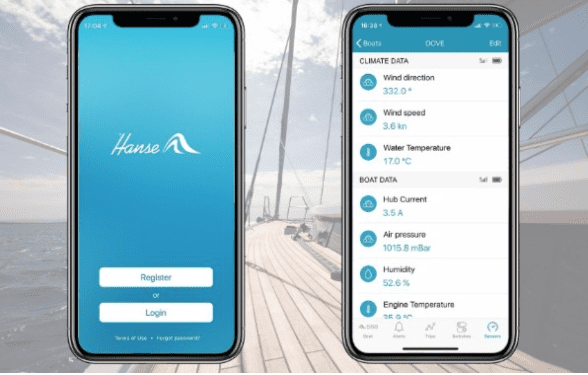 Monitoring your boat 24/7
With MyHanse Safety Cloud, your Hanse is constantly monitored to ensure that everything is fine with your boat. From current battery permits to your tank levels and its position, you can check the status of your boat anywhere in the world.
Did you leave your boat for anchor and are worried if it's still? No problem sets your duck arm and you get a message if the boat moves beyond your set limits.
Positioning live with Logbook
MyHanse Safety Cloud run by sentinel not only shows your Hanse's current position, it also records where the boat has been to give you an accurate logbook about your sailing adventures, including detailed boat and wind speed.