Sailboat test of HANSE 418
A SAILBOAT with torque for Offshore
– when the first real surge from the sea gathers before you and the boat starts to react.
What happens in the next moment is a question of trust …
Suppose you have the right sailing, the boat should take the right track up the scale, keep the sailboat line over the wavetop and slide speed down the other side. Alternatively, when you get up on top, there may be a disturbing crash followed by various cracking and moaning protests: an indication that your ability is probably better suited for other things. If that happens, you've pushed the boundaries too far and should rather think about being more careful with boat and crew.
Hances 418 is unequivocal in the first category. Competent, smooth and safe.
It's a joy to govern. Hanse 418 is a model of sailboats for fun sailing, maneuverable yet powerful. And as editor Scott Alle found out, it's also a lot of fun and comes with a host of welcome surprises.
Like a gennaker to sail in tailwinds more than 11o degrees. There is also an asymmetric spinnaker. Either of these sails would easily send the easy-to-drive hull to double-digit speeds under favorable conditions and back up claims that 418 is one of the best sailboats in the crowded segment of the 40- to 45-foot series-made Sailboats. Whether it's in relaxed cross mode or in the middle of a bunch of regatta boats, this sailboat is deceptively fast.
EASY TO SAIL
It's been a while since I've been on a Hanse, but once again I was struck by how easy it is to sail these sailboats from Hanse. My hosts of the day – Mary Bickley and Ric Hawkins – handled everything from the rorsman's seat.
The perfectly functional engine with 3g hp Yanmar did well, but when it came time to kill the engine aisle, the big sail was lifted without problems straight out of the lazybag and the jibe was released shortly after out via furlex it was rolled up on. Both large sail and jib are controlled with push button, electric steering wine from Lewmar; absolutely perfect for pair- or shorthanded sailing.
The owners of Breathe, the very well-equipped 418 that we tested, have chosen the popular option for two honest manual Lewmar winches for a gennaker or CodeC; the best way to speed with simple knots on a boat as well balanced and pleasant to steer like this sailboat.
The B&G instrument display and autopilot are right next to the narrow, jefa composite steering kpers (a tribute to Danish precision). The comprehensive instrument pack also includes a B&G 9-inch Zeus map plotter with AIS in a console attached to high-gloss polished teak cockpit tables. The table is a nice touch from Winderaft.
BALANCED DEVELOPMENT
Superior technique and sharp construction designed to produce a rigid, extremely strong hull that is fast and responsive at all sailing points. Hanse 418 is competent, agile and safe; a joy to govern. Finally, the hull itself is a balsa core, sandwich and fiberglass laminate. Set in polyester retarcy and its outer layer are vinyl esters for improved osmosis resistance. Everything is combined to form an extremely strong, rigid sailboat that inspires confidence in challenging conditions.
The L-shaped keel – somewhat reworked for better performance – contributes to 418's beautiful smooth feel. It turns superbly, making the battles a pleasure and being back in track and layline largely thanks to Hanse's self-striking jib.
According to given figures, in 14 knots true wind, with a recommended optimal 41-degree wind angle provides seven knots boat speed. Filling and leveling Elvström Sail's FCL sails sails the boat quickly and accelerated to a speed over eight knots.
INSPIRING AND TRUSTING
With local shipbuilders using more than ten days to get functionality, it is still details that make difference and this is a good example of quality boat building. So even in other cockpit solutions such as folding helmsman chairs and the generous bathing platform that you can indulge in after a dip, or pair some kayaks or set up a paddleboard. At the same time, with the platform lowered, the entire cockpit space opens up for dinners and socializing, the seat cushions even have backrests.
Tasman speculator, 418's pedigree was obvious. With its straight pole, judel / Vrolijk design cut cleanly through the agitated sea. 418 then went up on the scale, drifted over the wave comb and handled the exit with a bang in the waves. I went down the salon to check if something was dismantled or loosened and it … almost completely silent. Just a small re-arrangement of the porcelain in its secure boxes. Very impressive. There are very good reasons why this is the case. Firstly, there is a special, extra robust polyester fastening for the hull/deck connection. Then there are the heavily fixed keel plates that are placed in a bed of ultra-strong epoxy rescap at the bottom of the hull, and surrounded by a structural beam network. Keel bolts, nuts and trays are all stainless steel.
SPECIFICATIONS HANSE 418
SPECIFICATIONS
MODEL Hanse 418
LENGTH OVERALL 12.40 metres/40 feet 8 inches
BEAM 4.17 metres /8 inches
DRAFT 2.10 metres /6 feet 11 inches (default)
TOUCH POINTS
DISPLACEMENT 9,800 kilograms
BALLAST 2,860 kilograms (L-keel)
ENGINE 39 hp Yanmar (default)
WATER 475 litres
FUEL 160 litres
SAIL AREA 87 m2 (jib + main)
PRICE $450,000 (as tested)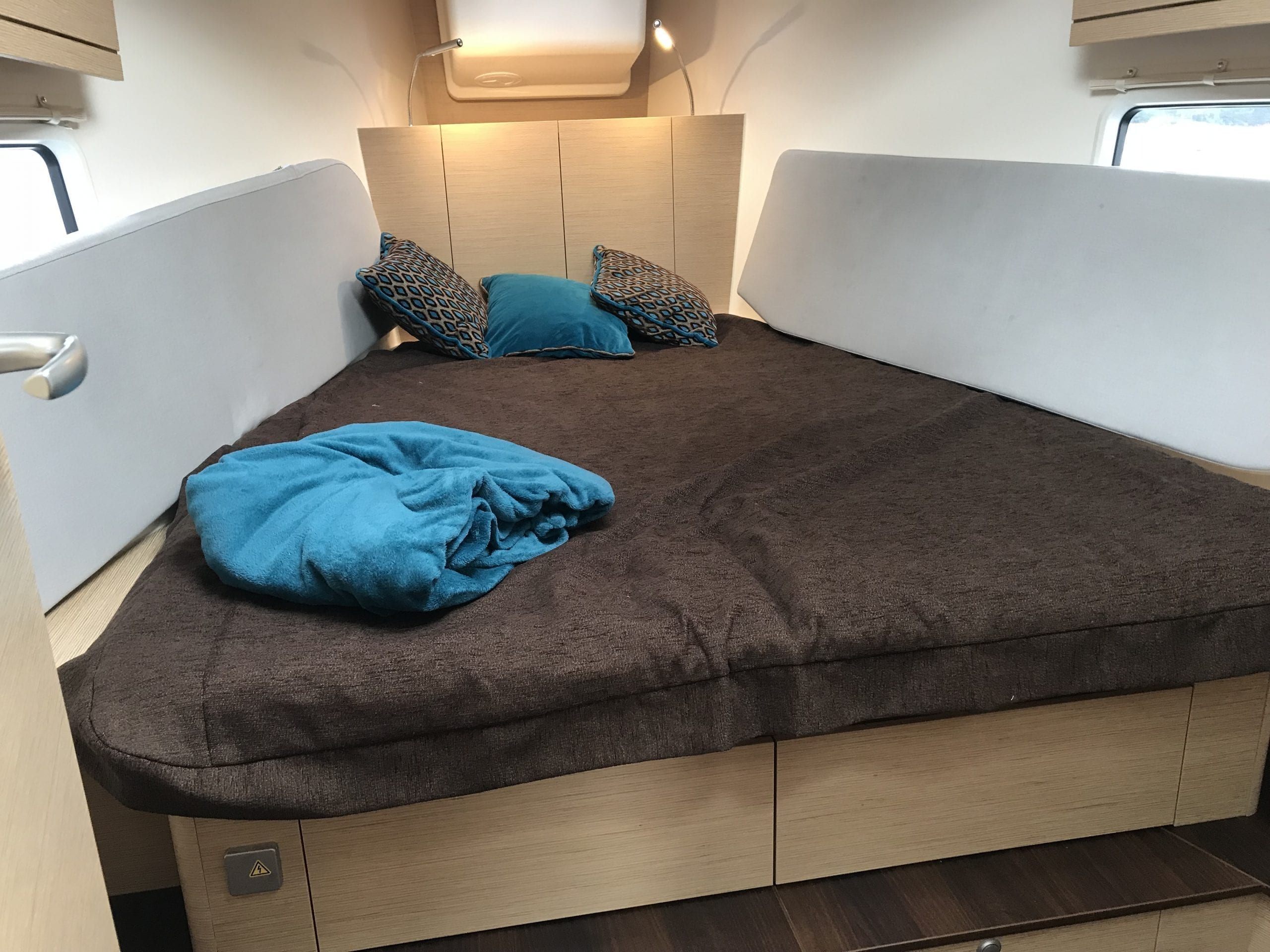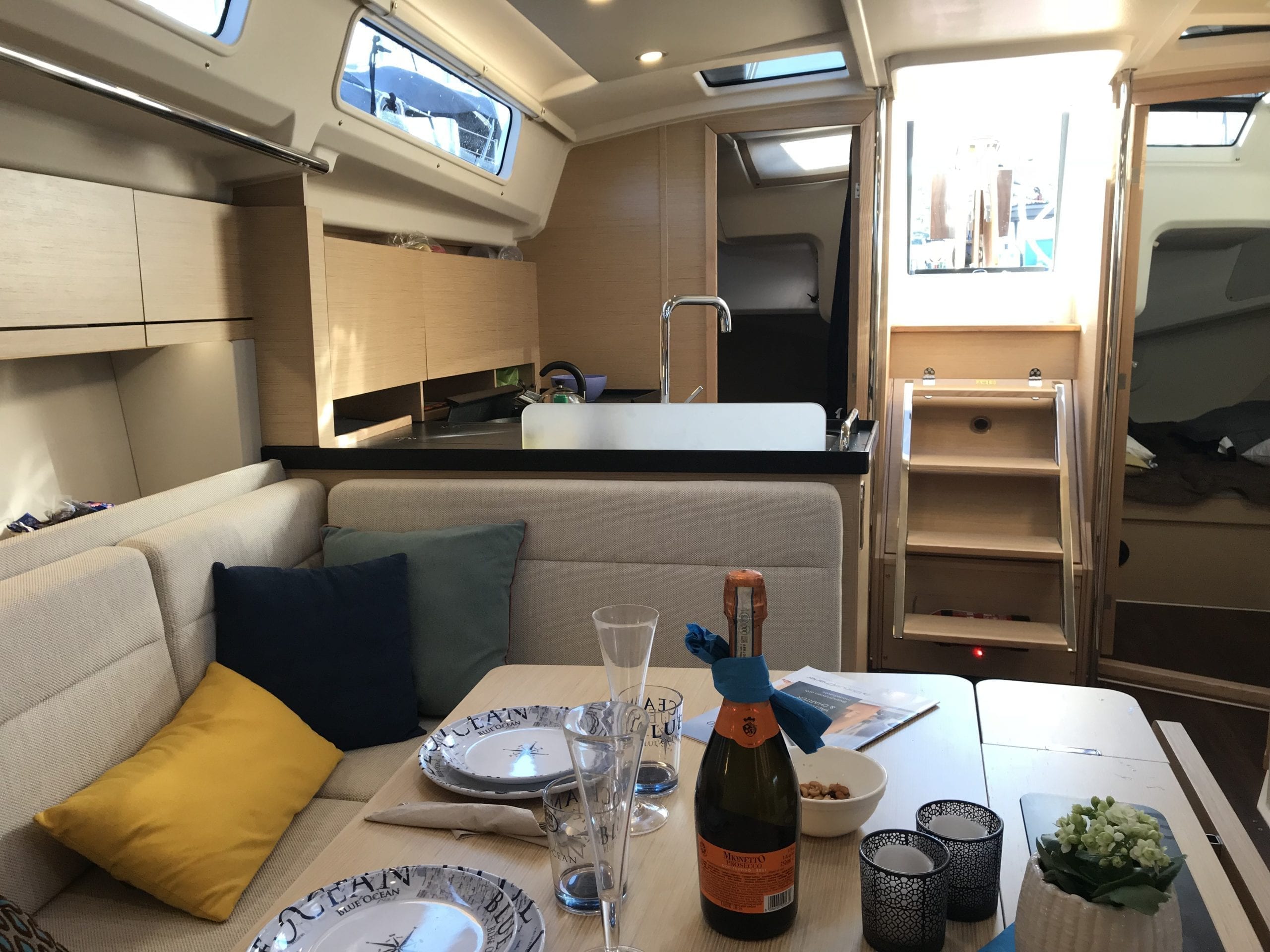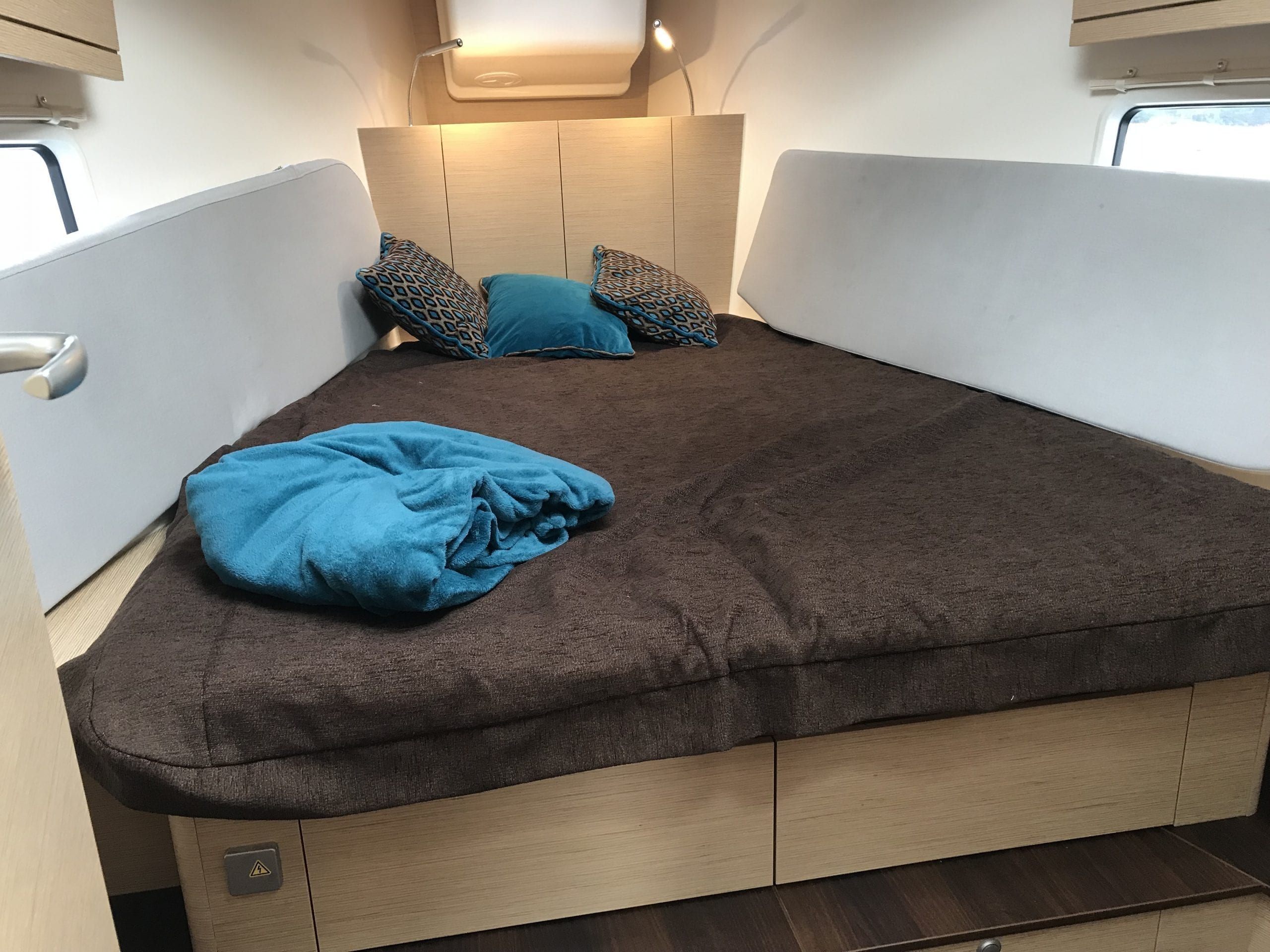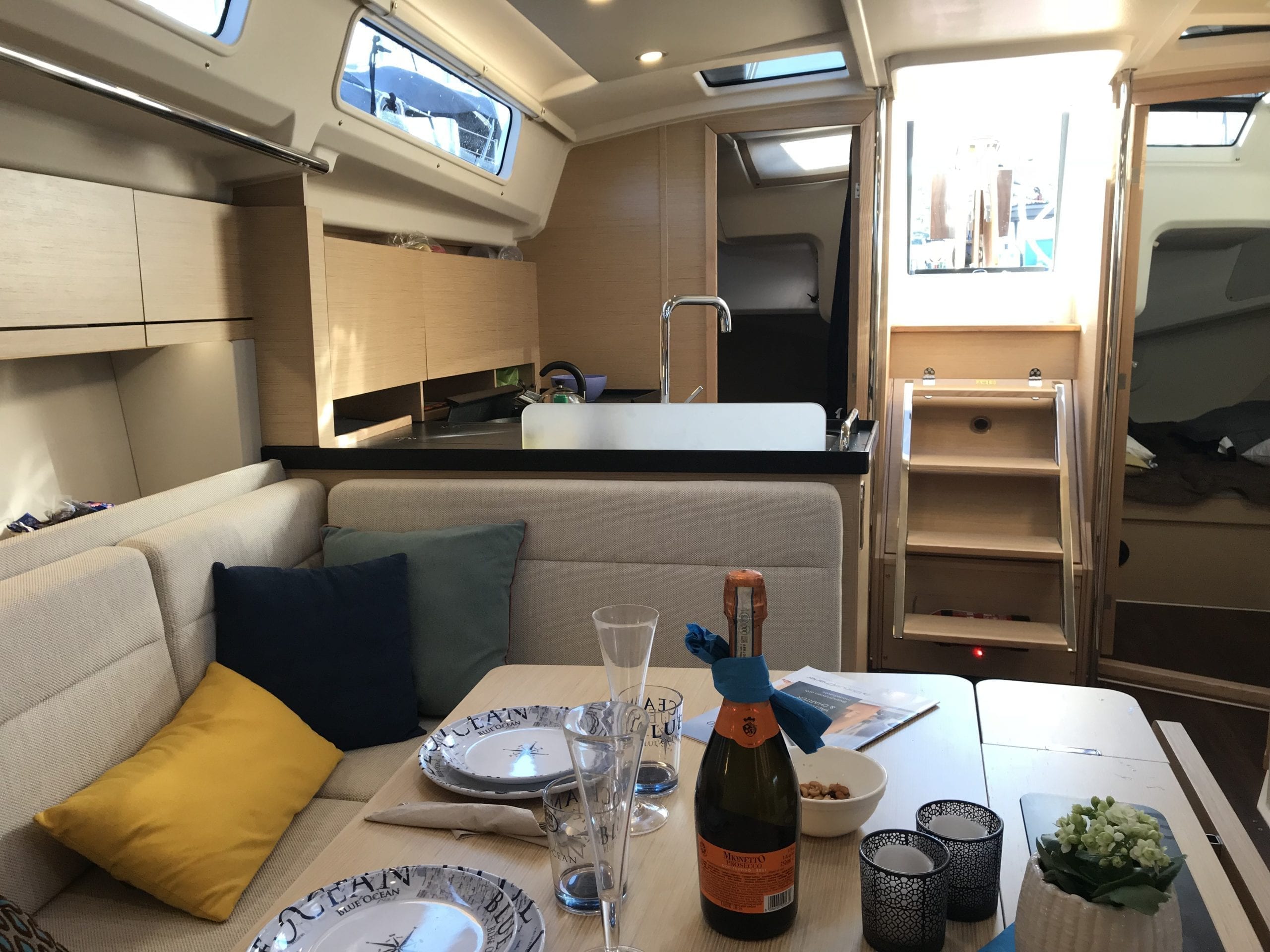 Continuation of test sailboat Hanse 418
SAILBOAT DESIGNED TO BE ON BOARD FOR A LONG TIME
Designers have been constantly trying to increase the parameters of light and space in recent years, and 418 represent how far we have come from the dark, claustrophobic salons a few decades ago. Glass is now incorporated as a structural element in the hull and is widely used in the accompanying panels. Complemented by a large lounge hatch and skylights, the interior is flooded with light.
Similarly, most of it has been made of the boat's 4.17m long boom, which lasts almost all the way to the stern. This sailboat model H418 is based on the highly successful 415 model. The main differences between the two are actually interior design, and they are significant.
A new tyre casting provides more height and width in the ruff and bathroom, which is spacious enough to accommodate a head and a full-sized shower with a collapsible screen that is held in place through a smart bolt arrangement.
Buyers can choose between two or three cab layouts. Breathe is the former, with significant stowage under-cockpit storage on the starboard side for longer trips, with input from either the cockpit or a door in the toilet, as well as a longer kitchen counter.
The extremely comfortable owners cabin in the bow is a big drawcard. The position of the bed forward facilitates access and creates extra width. This allows for a luxurious sleeping arrangement from head to sthech, which is usually not possible on a sailboat of this size. The large hull windows also offer stunning views from the bed.
MOOD RAISERS
418's interior design is stylish and functional and can be adapted completely down to pillow surfaces and cockpit floors. extra overnight stay. The chart table to the port can be lowered to configure another berth or extend the sofa. Each of the LED lights has a USB charger in its base; a simple but effective solution to uninterrupted charging requirements. The salon table – a double leaf, fold-out arrangement – can accommodate up to seven for dinner. A handy pull-out wine rack glides from the center console of the table, with more wine (or just bottle) storage in a rack under the cab floor. The L-shaped kitchens have good bench space and lockers, with practical grip rails for rough conditions.
COMFORTABLE AND COMFORTABLE
Placing the double bottom longer aft in the front owners cabin provides extra width. Skylights and windows channel a large sky perspective.
418 is one of the best sailboat options within the 40- to 45-foot segment. In these latest additions to Hanse's models with the 8-row. Stove with two burners is complemented by an oven. A medium-sized gas bottle is placed in a rear, self-draining cockpit cabinet while the 475-liter water tank is large enough for the long coastal sail sailed like Breathe's.
418's main bulkhead is a composite construction with carbon reinforcement, providing a rigid and direct mastke connection. This makes the interior even larger with its loft-like design that is utilized to its full advantage. 418 also receive ergonomic plotter cases, a double anchoring arm for CodeC and six windows in the aft cabins.
Standards
The master bedroom in the forepeak has an island with a double bed, large skylight and plenty of storage. In the aft cabins it is a spacious double bed with practical cabinet space. The three-cab version to maintain extra guests or family. Smart, dimmable lighting throughout the salon and cabins. Large wardrobes are a bonus. Plenty of ambient light from two windows in each cabin.
DESIGNED FOR THE FUTURE
Hanse's design philosophy, which uses the luxury and finish of its larger ships across the range to its smallest boats, is realized in the new 8 series. H418 is the center of the sequence that starts with H348 and goes through to H588. Each model combines elegant lines and simple sailing properties with superior comfort level. It is interesting to note that although many companies have switched to two-rudder boats with the same hull. Fingertip feeling via the beautifully balanced composite Jefa steering wheel, while the Selden rig and the high ratio of sail surface and displacement ensure that 418 is fast in light winds.
All fall and vertebra lines are covered, drawn backwards to the right man. Efficient reef system with a line. Hanse has chosen to stay at one-rudder solution and not double rudder. As a result, in my opinion, the boats are better all-round-performing hulls than their sailboat competitors. All this is confirmed by Hanse's deep knowledge and respect for the sea.
All in all, Hanse's new 8-series has set the bar extremely high in terms of quality, performance and comfort in a serially produced sailboat. The buyer has an unrivalled amount of choice to match both their desires and well balanced, with Hanse's signature with self-striking fock of 34.5m ?, standard sails of 52,5m2 and optional Gennaker 120.05m2.
Sails magazine 2018 Aug/ Sep